Reed Hastings, the CEO of Netflix, realized early that the future of DVD wasn't DVD at all. It was streaming.
He was right.
But Netflix's original attempt to get the world to embrace streaming failed.
Badly.
In 2011 Netflix announced that their basic service, which offered DVD and unlimited streaming for $10 per month, was going to be split into two services:
Watch it on the Internet for $8/month (Netflix);
Rent DVD's for $8/month (Kwikster). 😱
Netflix communicated this change poorly.
Subscribers hated having the DVD rentals that attracted them to Netflix removed from the convenient bundle. The dueling plans were also a 60% price hike during a recession and made a simple service complicated.
By the end of the year 700,000 people cancelled their Netflix subscription and at one point the stock dropped by 70%.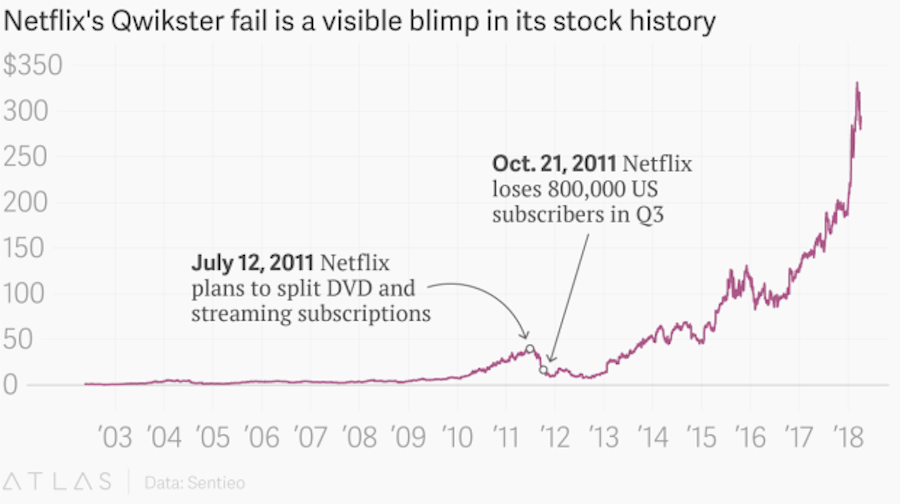 After the first round of poor communication, Hastings decided to take things into his own hands and address the issue in a video blog post.
Low-fi production and strange setting and wardrobe choices aside, the way in which they delivered this message is what caused much of the backlash.
What does this Netflix story have to do with COVID-19?
The pandemic is creating and accelerating the conditions for change. As we contort, shift and innovate to deal with it, there are two strong lessons from the 2011 dip our streaming heroes are trying to forget.
The first is that even the most brilliant idea, communicated poorly, can fail.
(Or at least get less than the desirable results your world class idea deserves.)
As you strive to deal with the new normal, make sure you make space to effectively communicate and connect your position to your market and key stakeholders.
The second is that during periods of intense disruption, listening is as important as innovating.
When you're considering making a game changing pivot in the middle of the COVID cacophony, be sure to create the conditions for honest feedback, or, "farming for descent", as Netflix culture calls it. Many staffers at Netflix thought their CEO was making a wrong move by raising the pricing so drastically back in 2011, but they didn't tell him. The executive team around him was overly deferential to the storied CEO because of his previous track record of tech clairvoyance which ultimately led to the downfall of Blockbuster.
So as we change our classrooms, courtrooms, bars, banks and every other movement in between, make sure you communicate to matter and listen lively.
Surviving and thriving in this new normal depends on it.